There are a couple schools of thought on client gifts.
Some Personal Chefs leave something for their client every time they cook a service.
I'm the other one LOL.
I tend to do client gifts on major holidays and our 'cookiversary', but not every service.
Don't get me wrong. I go above and beyond, but I don't prepare a gift every time. In large part this is because a lot of the time I have clients on special diets. They don't want random food gifts, they just want what they've ordered.
Also, the best gifts are ones that are thoughtful. Something that they've mentioned, relates to their life, or helps them with everyday life.
I don't want to give them cookies, just to give them cookies. Unless they love cookies!
Cute and tasty homemade food gifts are great for current clients, and also clients who were great but haven't had service in awhile, and people who refer lots of clients.
I also make a lot of seasonal food gifts for my kids' teachers and friends. I always have things on hand to make a cute and tasty sussy. (small, unexpected gift)
Here are some cute and tasty ideas and recipes for spring homemade food gifts. Cookies, candy, nuts, and even a throat soother for those springtime colds.
Holiday colored candy decorations, chocolate chips, white almond bark (WHY is it called almond bark?!), and other shelf stable ingredients keep for a long time. It's super easy to whip up some holiday themed bark.
There's no measuring, no cooking, no baking. It really doesn't get any easier you can see the full post here.
Since I have a huge, and growing, box of recipes I want to try out, experimenting with something new is always fun, like these Carrot Cake Cookies from Cooking Light.
For savory peeps, a jar of roasted nuts is always appreciated and easy to spruce up in a cute jar.
And at this time of year when it seems EVERYONE is sick, this throat soother from Simple Green Smoothie is hugely welcomed.
I also went CRAZY a few years ago over these chocolate marshmallow Easter eggs from Mel's Kitchen Café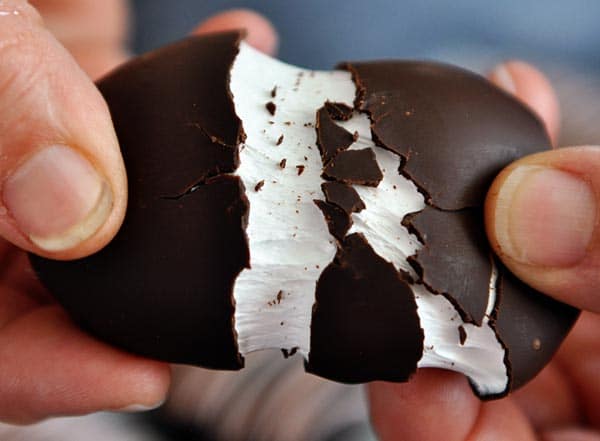 But again, you can keep it totally simple and partially dip oreos in white almond (WHY?!) bark and sprinkle before they setup for a lovely and festive gift.
What's your favorite spring time food gift to give or receive?